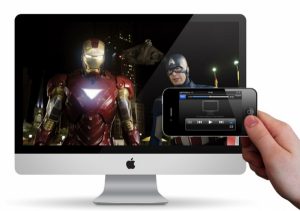 AirServer is an app for that you run on your computer that turns it into an AirPlay server. When you run the app on your computer it enables you to stream music and video from your iPhone to your computer.
I have two Apple TVs, as well as an Airport Express. When I choose AirPlay on my iPhone or iPad they all show up as options for streaming. I wanted to stream music from my iPhone to my Mac but Apple does not build that ability into the OS. AirServer solves the problem by turning your Mac into a server for AirPlay just like your Apple TV. After installing AirServer on my Mac, it now shows up along side my Apple TVs and Airport Express as an option for AirPlay.
Not only can I stream music and video, AirServer also supports AirPlay mirroring so you can show your iPhone's screen on your computer.
Check out this review of AirServer from iBlastPhone.
AirServer works best with a Mac, but there is a Windows version too.